The metaverse has arrived. We don't know exactly what it will offer us or how it will change our lives yet. The idea of a parallel virtual world in which we can interact, live and work raises as many questions as it does expectations. What kind of professions will emerge in the metaverse? How will we manage the virtual-reality work-life balance? Will it be the new scenario for professional development?
In this article we will discuss:
The new working reality of the metaverse
According to Mark Zuckerberg, father and creator of Facebook and the metaverse, this new online space will be a place where we'll all be present, creating new opportunities and where we'll live unimaginable experiences and sensations.
The metaverse is set to be a highly immersive virtual world where people come together to socialise, learn, play and work. The transition towards this alternative to the physical world is a leap into the future that generates curiosity and excitement, but also some vertigo.
We don't know much about what the metaverse consists of or how it will transform our working reality yet. But we do know that it'll become the driving force behind new professional profiles and new relationships between companies, employees and consumers. At least, this is what the technology company Wildbytes claims, stating that in five years 70% of companies will be in the metaverse.
The truth is that if the effects of the pandemic had already called into question the traditional idea of work, the arrival of metaverses in the workplace is once again reframing these methods.
"70% of companies will be present in the metaverse in five years".
While it's increasingly clear that the future of work is moving towards a hybrid format, virtual offices are beginning to take their place in large companies as new tools for team interaction. Workspaces designed in the metaverse mimic physical environments and allow the creation of avatars to foster new avenues for collaboration, creativity and immersion.
Professions in demand for the metaverse
In the same vein, for the development of the metaverse and for all that it promises to be possible, a multitude of professionals will be needed to fill new positions that do not even exist today, or even many others that we know well enough in their physical version, but that will have their chance in the virtual environment.
If reality needs rules of the game and professionals to "build" it, so does the metaverse, but with its own characteristics.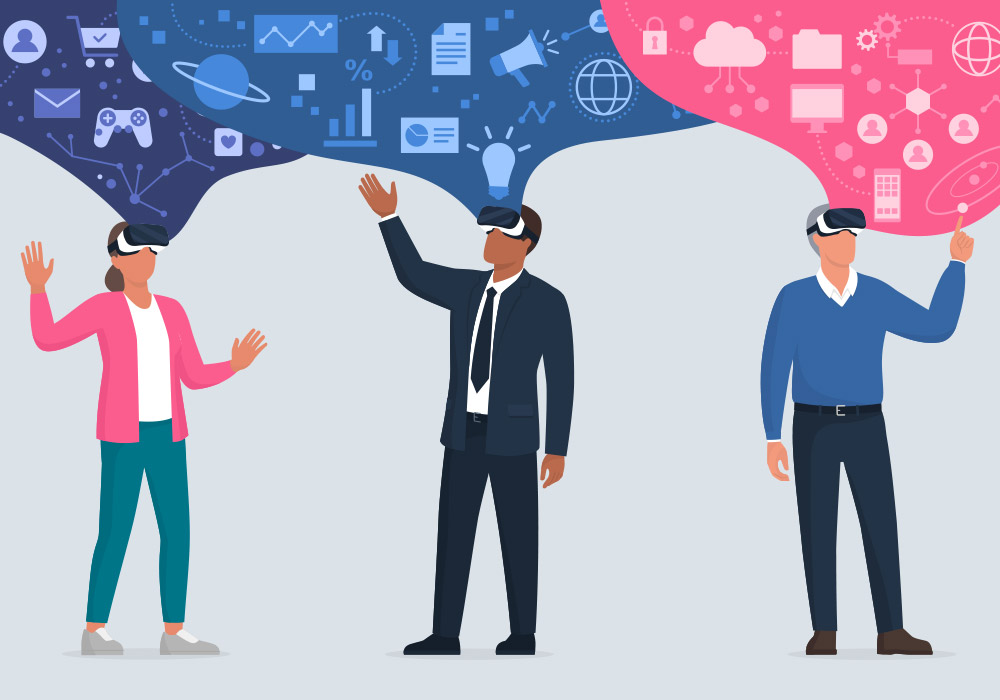 Therefore, companies will have to create and seek new digital talent for the metaverse, profiles that, in addition to their conventional area of activity, are experts in this new virtual reality. Let's take a look at some of them.
Engineering Professions
No surprises there. Engineering is the most in-demand training in order to work in the metaverse. After all, they're the ones who bring it to life and who program the foundations of this new digital world. Computer engineers, data analysts, Big Data, experts in Artificial Intelligence, telecommunications and blockchain are particularly in demand.
As expected, hardware engineers will also be one of the most sought-after professions in the metaverse. This is because it will not only be based on code, games and applications. That means operating in a permanently available three-dimensional environment that will require the development of new cameras, headsets, wearable devices, sensors, and so on.
The profile of ecosystem developers for the metaverse is also on the rise. They're in charge of building an entire ecosystem around it. From sensors to laws and regulations, from CPUs to KYC processes. The world is complex; digitalising it, even more so. In this sense, the ecosystem developer is in charge of coordinating partners and governments to ensure that the various functionalities created are possible on a large scale.
Over the next few years, organisations will need software engineers with Augmented Reality (AR) and Virtual Reality (VR) skills to develop their presence in the form of platforms and applications for the metaverse.
Another of the most in-demand professions in the world of the metaverse are 3D Game Designers. They're in charge of conceptualising the characters, settings, story and gameplay. They also work with developers and programmers to translate these ideas into code.
Design Professions
Next on the list of metaverse professions are the design-related profiles, who will be in charge of giving shape and colour to the avatars and the different spaces we enjoy within it. A group that includes graphic, 3D, animation, virtual reality, etc. designers. But there's also room for fashion designers, product designers and architects.
These sectors are beginning to gain special importance, defying all barriers of physical reality. It is now possible to explore metaverses full of customisable territories, innovative structures and mimetic avatars that endow these new environments with life and personality.
Marketing and Social Media Professions
The emergence of the metaverse and its popularisation will transform our current understanding of social media. This virtual world will open the door to new ways of organising marketing campaigns and interacting with and impacting potential customers. In this sense, profiles such as content creators for the metaverse or specialists in digital marketing focused on the metaverse will be indispensable in a few years' time.
Sales Professions in the metaverse
Although today there are still boundaries between the two worlds, nothing will prevent the real and virtual worlds from intertwining. Avatars will be able to buy virtual products, which they will also be able to enjoy as consumers in their real lives.
Buying is not the only possibility in the metaverse. These environments will make it easier for users to create their own virtual goods so that they can sell them in these immersive worlds, generating new ways of earning a living.
And while the impact will reach all sectors, luxury is capitalising on the metaverse, reaching unimaginable levels. According to the consultancy Morgan Stanley, sales in the digital universe within the luxury industry could reach up to $50 billion by 2030.
We've already seen experiences of this kind. One user paid $650,000 for a luxury yacht that only exists in the metaverse. The boat, called "The Metaflower Super Mega Yacht", is an add-on to The Sandbox.
The metaverse will undoubtedly mean the definitive transformation of some professions and the emergence of many others. It will also mean the adaptation of well-known and conventional occupations to new spatial coordinates that were unthinkable a few years ago: shop managers, security guards, security officers, salespeople… A challenge for workers and companies, especially in the corporate and human resources sphere, so that these environments are integrated into business objectives, team management and corporate culture.

Sources:
zorraquino.com/informes/tendencias-metaverso-2022.html?gclid=Cj0KCQjw2MWVBhCQARIsAIjbwoOdMgSFF-04dij70QpGtRZ9A3KG1qiepr4cfPzXljpu36NaFz5YnlAaAjomEALw_wcB&descarga=ok#registro