Starting a career means facing challenges that force us to make many decisions. We must choose whether we are going to work in a large company or in an SME and we may have to prepare ourselves to change cities. The report World's Most Attractive Employers 2018, in which Universium conducted a survey among 230,000 undergraduates, has served to know the current motivations Degree or Master students have before delving into the labour market. How to choose the first job? The motivations are the following:
A good balance between personal and professional life.
Job stability.
The prospect of becoming leaders within an organization.
Developing an international career.
Carrying their work out in a company with great entrepreneurial and innovative spirit.
Being devoted to a cause, or feeling that the work being performed is aimed towards a greater good.
Independence and autonomy when developing their role in the company.
The chance to become experts in their respective areas.
Other experts and studies point out diverse determining factors in the choice of the first job, such as the sector a company belongs to or professional conditions. But there's also another element commonly regarded: the size of the company. 
Based merely on its scale, no company is better than other. But they do differ in a series of features and, eventually, some of these might become the motivation a recent graduate expects to get.
Frequent features of SMEs
SMEs are characterized by their small-sized teams. Two or three people are in charge of a specific business area. Being such a lean staff, it's very common to find multi-tasking professionals who perform their duties autonomously and with a greater degree of accountability for the job done.
The size of departments has an effect on the professional environment as well; the sense of proximity among colleagues and managers makes cross-sectional interactions a usual occurrence. Starting your professional career in an SME offers you many possibilities to stand out in your first job.
In terms of working pace, the development of strategies is agile, since there are less people involved both in process revision and its implementation into the business model.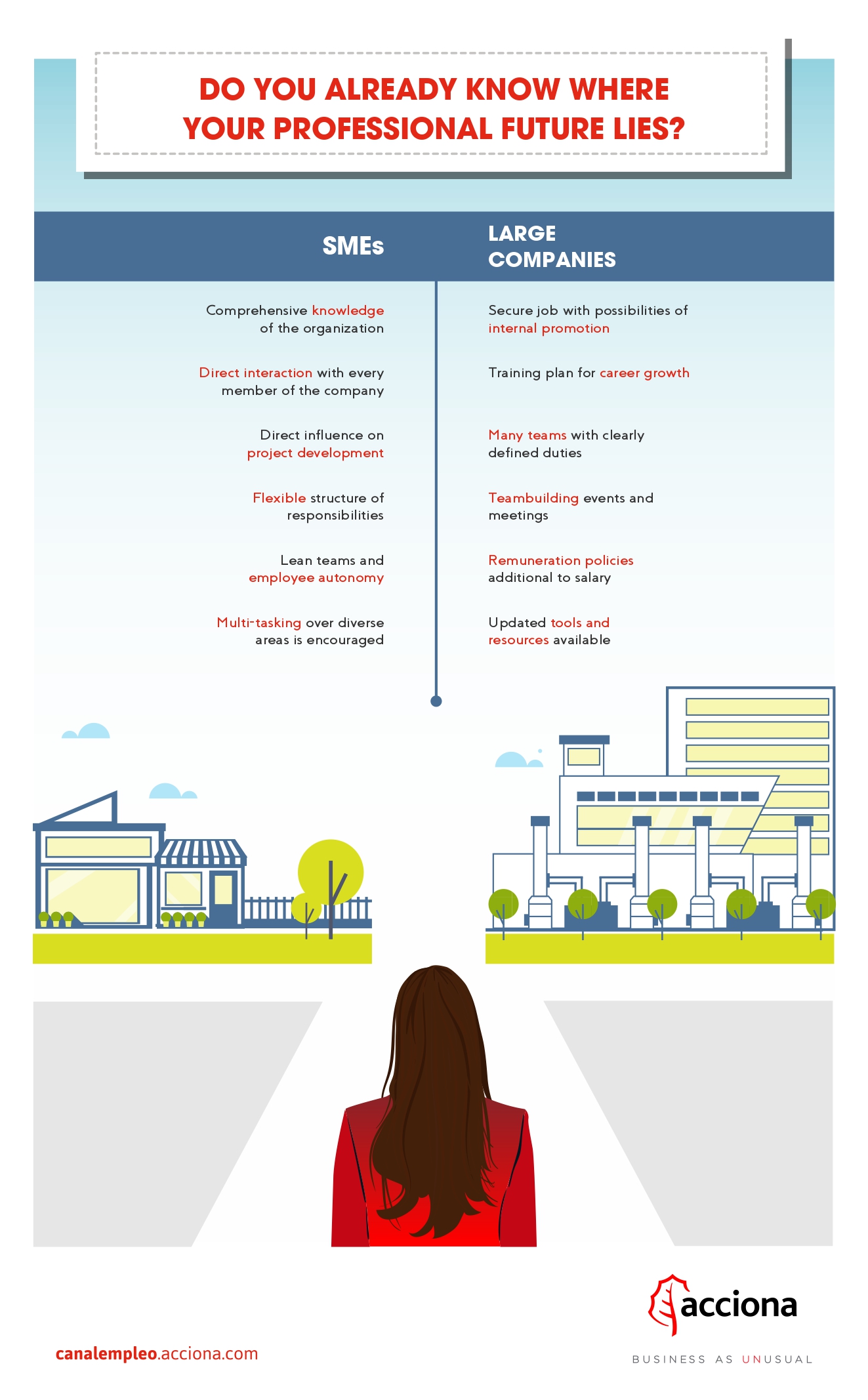 What a recent graduate can expect from large companies
A large company has a wide selection of resources at the disposal of employees, from highly-technological tools to continuous training programmes that enhance the professional growth of its employees.
Besides, prospects of professional stability and chances of broadening a contact network are high. Great opportunities for professional development within the organization, even entailing global mobility in the case of multinational companies, should be particularly mentioned.
Working for a large company makes a person's resume more appealing, specifically in the corresponding sector. This is due to the clearly defined nature of each employee's role, thus allowing them to acquire high qualification and technical excellence.
Seven questions to ask yourself before choosing
Once established the differences, there's no mathematical formula to decide between large companies or SMEs when taking the first career step. There are some experts, however, who have made an approximation. One of them is managing director of Hays Spain Christopher Dottie, who points out that the choice should be made after answering the following questions:
What kind of resources has the company available for you?
What degree of accountability or autonomy will you have?
What are the chances of global mobility?
How do you see yourself in the future within the company you apply for?
What are the prospects of professional promotion?
What are the salary conditions?
What kind of person are you?
Apart from focusing on aspects like the salary, working hours, or perks, various-sized companies "are of benefit to different people in different ways. It depends on the personality, ambition and the current stage of candidates' professional career", according to Hays.
Sources: Infoempleo, Hays, and Oficina Empleo.
At ACCIONA our aim is for our workforce to be made up of the best professionals around. We want people who wish to contribute in designing a better planet. 
Discover our job-offers
 available worldwide.