Even though millennials are mainly the ones under the radar of companies and the media, another generation is starting to find their niche in the world.
They're the centennials, or those born around the turn of the century and now on the verge of entering the labour market. In fact, the first young individuals considered to be members of the Generation Z are already around 23, so from next year on they will begin searching for a job once their higher education is completed.
Several studies published in recent years have been focusing on these youngsters and their perception of employment. Finding out their way of thinking will help us when trying to attract talent. But we must take something into account: most of them have never had a job yet, so certain aspects of that thinking may change once they start their professional career. This is outlined by a study conducted in 19 countries by the INSEAD Emerging Markets Institute, contrasting the differences among the three generations —X (born between 1968 and 1981), Y (between 1982 and 1994) and Z (from 1995 on)— coinciding in the labour market simultaneously.
In said report, the importance of technology for centennials is reflected, also stating that the development of virtual reality and its implementation in companies —particularly those where risky situations must be confronted— is one of the factors to be promoted in order to attract these young individuals. This technology will allow employees to experience close-to-reality situations where mistakes are not unfixable, therefore making it possible to learn thanks to first-hand impressions and the way they react under stressful conditions. An example of this is the collaboration between the University of Exeter, UK, and companies of the nuclear industry seeking to train their workers using VR technology.
This attachment to new technologies contrasts with their preference for face-to-face meetings with their colleagues or managers, instead of making a telephone or video call. Following this path, they also favour in-person training over on-line courses. The possibility of continuous training is precisely another of the key factors for the members of Generation Z. For them it's essential to re-educate, and when choosing a place to develop their career they give priority to self-improvement over the salary they're going to earn, according to the Gen Z Global Workplace Expectations Study conducted by the consultancy firm Millennial Branding.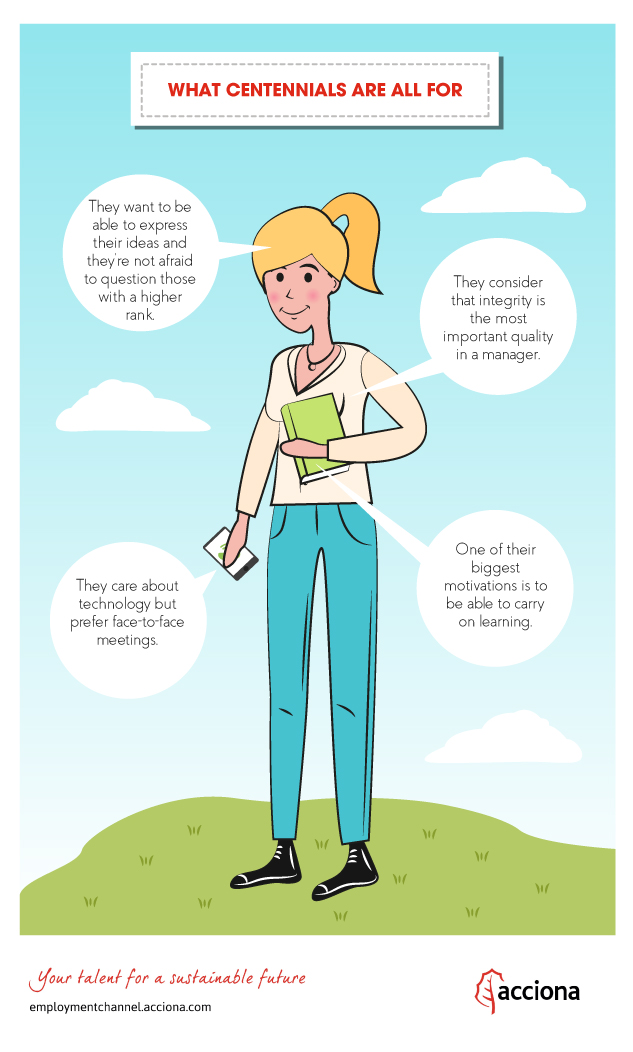 When hiring a centennial, it is advisable to consider that they're mainly attracted by projects they're interested in rather than by a sense of belonging towards an organization, and in their thoughts regarding the future they see themselves switching companies four times on average. When compared to Generation Y, both their capability to be adaptive to change and their stronger sense of reality regarding what to expect from the labour market are in their favour, perhaps because they've seen how the expectations of the previous generation have not been met within a framework of worldwide recession.
What these youngsters, most of them still in their academic stages, are sure about is how their relationship with their future manager should be. They want people who listen to their ideas and assess their opinions. They also seek for honesty, a quality they underline as the most important to be a great leader. They're not afraid of questioning certain approaches and refuse to accept strict policies that limit their autonomy. Likewise, they don't see themselves performing their duties within a frantic-pace environment.
Broadly speaking, centennials will feel attracted by a company that allows them to keep developing. They'll also favour an environment receptive to their ideas and where their opinions are evaluated, something that millennials —much more interested in being able to work autonomously— don't care much about.
Sources: Harvard Business Review, GlocalThinking.com, Millennial Branding y Phys.org.
At ACCIONA our aim is for our workforce to be made up of the best professionals around. We want people who wish to contribute in designing a better planet. 
Discover our job-offers
 available worldwide.