Every 10-15 years, the world seems to take a 180 degree turn and the habits, customs and personality of newborns start to shift. We're currently undergoing a revolution, even within professional environments. A solution to worldwide changes is to draw a distinction among millennials, Gen Zedders and even Joneses or Gen Xers at work. This solution is valuable for both companies and the labour market as well.
Before delving into their similarities, the first thing we want to mention is that the exception proves the rule. A person born in 1985 may not belong to the centennial stereotype, while someone born in the 60s may fit into it. They share, however, a common historical context, culture and even values. That explains, for instance, the fact that millennials prefer connected TVs while Joneses opt for tablets, according to the "Consumer Habits" report by IAB. This common ground can also be found in the professional world.
Generation X, Y, Z at work
Before starting, do you know the period of time each generation belongs to? Although there's not a consensus, we can point out that:
Baby Boomers are those born between 1950 and 1970.
Gen Xers or Joneses, born between 1970 and 1982.
Gen Yers or Millennials, born between 1982 and 1996.
Gen Zedders, Centennials or Digital Natives, born between 1997 and 2010.
Gen Ters or Touchers, born after 2010.
There are also exceptions to the rule, particularly when talking about intergenerational boundaries. A millennial born in 1994 will have more things in common with a digital native born in 98 than with another millennial born in 1983. What motivates these groups to stay in a particular job position? What do companies do in order to retain talent?
The generation that started everything
Before speaking about the three generations that still entail a professional challenge, we should mention baby boomers. They were named after the increase in birth rates following World War II (they were born from 1950 on) and influenced by the events of the Cold War, a period of great political distress. They were the first to break apart the traditional working structures, so later generations owe them a lot.
Due to their age, the professional motivation of this generation is find labour stability and certainty in their professional environment. They're used to work in the same place for years, so they're considered strong assets for a company.
X, the generation gaining experience
Due to the social circumstances they've experienced, such as departing from tradition and increasing awareness of new chronic diseases, this group has adapted to whatever comes their way.
Joneses, or Gen Xers, are lucky to comprise the majority of the labour market and hold key and intermediate management positions. They're the children of conservative parents, but also of those who broke the boundaries of the status quo. And even if the other two generations wear a techie label, Xers are the ones who have lived the digital boom since the 1990s, adapting to every upcoming technological breakthrough.
If there's something that defines this generation is their lack of fear for extraneous changes, including those related to their work environment. They're capable of efficiently adapting to changes in management, corporate philosophy or business model. Retaining a Jones is retaining a loyal asset: their achievements are also the company's.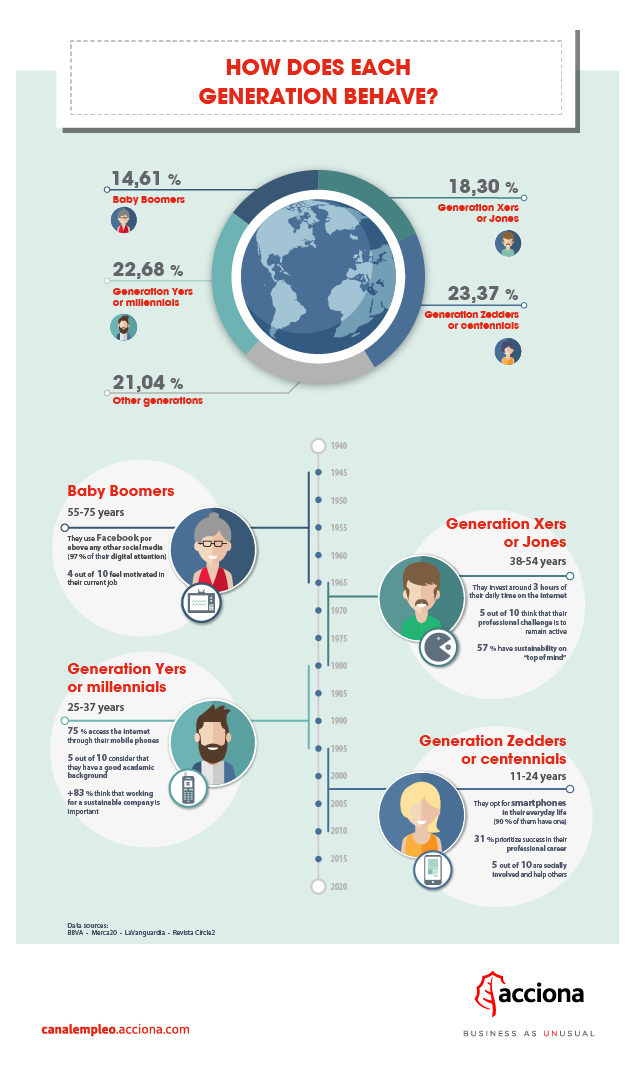 Y, the generation that needs to be heard
Gen Yers have been forced to join a labour market in the midst of a recession. That has made them suspicious on the one hand, but prepared and entrepreneurial on the other.
While previous generations considered team achievements as their own, the most relevant feature of millennials is their individualization. Recognition for their accomplishments must be theirs and theirs alone, and if they don't receive it, they become professionally discontented. Recognition is not measured in years of experience. Companies willing to have Gen Yers in their ranks must be aware that by 2020 they will constitute 35% of the labour force, a figure that proves their immediate relevance.
These youngsters of between 20 and 35 seek a job where they have a voice and their personal circumstances are taken into consideration. That is achieved by working flexible hours, being involved in a work dynamic based on their interests, and transparency regarding duty assignments. They know they're useful, but they demand that their professional skills and competences are praised every once in a while.
The dilemma of Generation Z at work
Exposed to digitalization since birth, centennials also experienced the consequences of the financial crisis (suffered by their parents and family), so this makes them more pragmatic, less idealistic.
Given their age, it's early to establish what centennials look for in their future job. Considering their devotion for technology and multi-screening, it's easy to predict that their future occupation will be closely related to digital environments. They'll be the next to join the labour market and, following the trend set by the previous generation, they seek jobs that provide flexibility.
They've also proven great teamworking skills, and a concern for corporate social responsibility. They're environmentally and socially conscious, and they pursue efficient economic development, which are in turn the three pillars of sustainability. Companies that don't commit to future won't be able to retain these emerging talents.
And those who will come
We can't leave aside those who will come, Gen Ters. Also known as Z2, they're were born after 2010. Children of a globalized and hyperconnected world, they're experts in using their touch (hence their name) to operate digital devices. They're considered to be impatient and to have short attention span, and the boundaries between their public and private persona are blurred. In ten years' time they'll join the labour market, and being aware of their common characteristics will be key to win their senses, their minds and their commitment.
A true professional challenge for the future that should be addressed at the present. Should we integrate tactile devices (tablets, smartphones or wearables) into our workday? And should we simplify the more analogic tasks, prioritizing everything digital?
The ball is in the companies' court
Once the mind of Gen Xers is conquered, it seems that the challenge is still to win the heart of millennials and centennials. Why their hearts? Because these generations are motivated mainly by emotion,  professional motivation and self-fulfillment. Lets' not forget that they're an upcoming force in the labour market: their traits and needs will be a priority very soon
Sources: IAB, La Vanguardia, BBVA, Entrepreneur, Forbes
At ACCIONA our aim is for our workforce to be made up of the best professionals around. We want people who wish to contribute in designing a better planet. Discover our job-offers available worldwide.