What will I read about in this article? 
BlackBerrys now rest in peace. Officially, the company stopped providing any support on 4 January 2022, although their end had already been written for some time in the face of the irruption of Android and iOS. Nevertheless, these small devices were a real revolution both among politicians (it was the mobile used by Obama and Merkel in their day) and among many professionals. Without us realising it, these devices opened the door to digital hyperconnectivity and the Internet began to be a fundamental part of the work-life balance.
BlackBerrys, valued for their high security, made it possible for many professionals to access their emails from wherever they wanted (from the supermarket queue to the ski lift).
Although such devices no longer exist, the practice of checking email on mobile phones is more alive than ever. And not just among managers and professionals, but among all kinds of audiences. We've entered a phase of constant connectivity
The Pitfalls and Opportunities of Digital Hyperconnectivity: An Eye-opening Essay
 As we all know, constant connectivity brings many benefits, but also the occasional headache, both in households and in organisations. And these headaches force us all to rethink and renegotiate the rules and expectations of constant connectivity or total availability.
The point of expectations is crucial. These everyday devices "inspire" behavioural patterns (we experience it first hand, and if not, you only need to get on the subway to understand it) but it's not the functionality or capability of the device itself that solely conditions its use, but also the expectations of its use.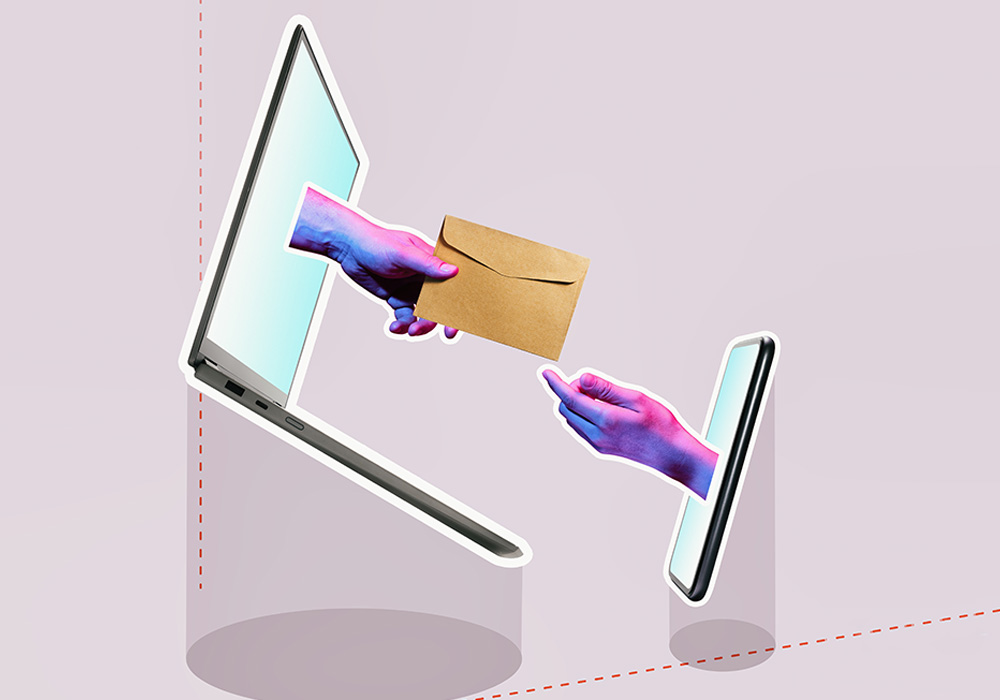 Therefore, there are two key elements: the functionality itself and the expectations. The tool itself, and the silent voices from outside.
To understand the weight of expectations, we'll examine an excellent article by Mazmanian, a professor in the Department of Computer Science at the University of California, who conducted a 3-year ethnographic study in a shoe company, examining the before, during and after the introduction of mobile phones with email, comparing two groups of employees: lawyers and sales people.
The study took place at the time when Blackberrys were introduced en masse in organisations, but it's entirely topical, as it reveals how one group fell into the "trap" of constant connectivity, while the other group finally experienced it as an opportunity. Which group is which?
On the one hand, the author of the study examined the organisation's team of lawyers in depth. There were 7 people (4 women and 3 men), all married with young children, except one, who normally worked at the head office, with an open-door culture, with little travel, collaborating on different projects and, above all, supporting their internal colleagues, whom they considered their "clients".
Most of them were lawyers who had worked in large law firms and decided to move into industry in order to better combine their personal and professional ambitions.
The arrival of the Blackberrys was welcomed by them, as it would allow them to better serve their internal colleagues and better manage their work-family balance.
On the other hand, the sales reps were a group of 100 people, half of whom Mazmanian interviewed, also married with mostly young children, with a lot of travel, and who as a rule spent 3-4 days a week away from home.
Their reaction to the arrival of the Blackberrys was the opposite of that of the lawyers, as they perceived that it would be a tool of control by the organisation, and would give them even more work to do.
However, what's interesting about the three-year longitudinal study is that the initial perceptions and expectations of lawyers and salespeople were eventually reversed. Within a year of having mobile devices, lawyers perceived that they had to be online for 15-16 hours a day, affecting their family and the quality of their weekends.
Everyone agreed that, in the face of digital hyper-connectivity, new strategies should be created to protect their time and family, but there were no concrete measures. After two years, the situation was even worse. Some of them said that their mood had even worsened.
"In the face of digital hyperconnectivity, new strategies should be created to protect your time and your family".
Among the reps, the opposite was true. There was never a clear interpretation of why the company provided them with a Blackberry. This lack of interpretation led to heterogeneity in practices, and this diversity in usage did not generate a clear expectation of constant connectivity.
It was this lack of expectation that allowed reps to use the Blackberry when they really needed it, seeing it as an opportunity to answer emails on the go, saving time in front of the PC. 
Thus, while the lawyers went from initial joy to unease, the commercials went from a certain repudiation to a good reception within a couple of years.
How digital hyperconnectivity affects our professional performance
According to Mazmanian, four elements accounted for this reversal in the perception of email use on mobile phones:
Identity: Lawyers' mission is to support their internal clients. And email is the main channel through which their service is delivered. Therefore, wanting to be good professionals "forced" them to check their email and "take advantage" of the constant digital hyper-connectivity of their new devices. A topic we address in this article.
In the case of salespeople, email is not the main channel to be seen as a good salesperson. Sales are made by building a relationship of trust with the customer, and this is achieved through visits, not email. Therefore, the advent of email on mobile devices did not overly transform the way they work.
Materiality: Mazmanian also detected that the lawyers embraced the physical, functional and symbolic aspects of the Blackberrys. They wore the devices slung on their belts, projecting themselves as organizational individuals. In contrast, salespeople dressed in jeans, hiding their Blackberries in their pockets, or travel bags, since such devices didn't represent a symbolic aspect of their work for them.
Vulnerability: Lawyers were the first to make a critical exercise to avoid addictive forms of work, but their structural position in the organisation contributed to undermine this initial position and left them vulnerable to internal and external pressures. They were aware that they were part of a supra-managerial function and that they shouldn't be the ones to slow down the flow of processes.
Colleagues constantly sent them queries, vice presidents wrote to them on weekends, international colleagues contacted them from other time zones, increasing their vulnerability. Their expectations changed in a short time, and they ended up being subject to social pressures and the expectations of others.
The opposite was true of the salespeople, whose structural position limited their vulnerability to social pressures. They were aware that they brought value to the organisation by selling or, as they put it, "making their numbers", and if they were asked for things by mail, they were aware that they'd probably not lose a sale by answering an email.
Visibility: Lawyers were very often copied, along with their superiors, on many different issues. They, at the same time, also copied (cc) others to speed up projects (although perhaps so much copying has the opposite effect), generating a new culture of who, when and how quickly emails are answered, forcing lawyers to always be "visible".
This tendency to carbon copy in e-mails didn't happen among the commercials. And it is precisely this lack of need for visibility that allowed the commercials to use their Blackberrys freely to a certain extent.
"There is a new culture of who, when and how quickly emails are answered: the need for visibility".
4 questions to assess the effect of digital hyperconnectivity
In short, Mazmanian's study, which aims to understand how different occupations are adapting to new communication technologies, and specifically to email on mobile devices, is entirely topical.
The study reveals that low vulnerability and visibility among sales reps are the enablers of heterogeneous practices in the use of mobile devices that allow for completely free use.
On the contrary, high vulnerability, coupled with high visibility, along with email being the channel through which lawyers served their clients, reversed their initial perceptions, to the point of changing their character.
This original study leaves us with interesting questions that any contemporary organisation wishing to care for its corporate society should ask itself:
Which occupations in our organisation are most affected by constant connectivity?
Which occupations in our organisation have email as their "main channel" to support or perform their functions? (As would be the case for lawyers, and not for sales people)
Which occupations are most vulnerable to internal and external pressures within my organisation?
How does each occupation add value to the organisation?
Asking questions is a first exercise in order to unveil more complex realities than those appearing at first glance. Constant connectivity is a new reality with benefits and detriments that's here to stay. Organisations, as social actors, cannot refrain from reflecting on it and protecting their corporate society from the most pernicious effects of its abuse.
References
Mazmanian, M. (2013). Avoiding the trap of constant connectivity: When congruent frames allow for heterogeneous practices. Academy of Management journal, 56(5), 1225-1250.
https://people.acciona.com/es/innovacion-y-tecnologia/innovacion-empresarial-tecnologia-filosofia/