100 years ago, thinking about landing on the Moon seemed like a dream out of Jules Verne's books. 15 years ago, nobody would have put their money on streaming entertainment services. And a couple of years ago, 2D printing seemed like it would not be capable of kicking up a notch. There's always been reluctance towards any invention before proved itself valuable. Nowadays we know that almost everything will become possible thanks to breakthroughs in technology. And innovation within companies must take part of the credit for that.
Betting on innovation within companies is a hard road ahead, but companies are aware of the benefits and the competitive advantage generated in the long run. And that has an impact not only on the way you work, but also in the way you prepare yourself before the world.
Innovation within companies is the path to the future
Numbers back it up
Economy supports novelties. If innovation culture grew by 10% in the next 10 years, World GDP would increase by eight billion dollars. This figure, spread out among innovative companies, would allow for research and development of new practices and technologies.
In Spain, more than half of the companies have implemented innovative activities. But only 37% considered themselves as torchbearers of innovation. There's still a long way to catch up with our European neighbours (68% in Belgium and 63% in Germany), but we're on the right path and already have various instances of innovation within companiesthat many European organizations envy.
Culture of innovation
Companies really willing to transform, change, improve must integrate the culture of innovation into their business model. And this transformation is not an easy one. It doesn't mean to have the best resources or groundbreaking technologies; a long-term plan must be designed in order to exploit them.
In the culture of innovation, generating ideas is not enough: it's crucial to implement, monitor and improve them. How can you be part of that equation? It's essential that you're aware of change, not afraid of contributing with everything you consider useful. One of your ideas can turn into the foundation of said change.
Make innovation tangible
Companies betting on innovation usually share a series of akin strategic features. Being aware of them is the first step towards knowing what we can bring to the table, growing and providing value with our professional performance:
A bet on collaboration. The concept of leadership has evolved within these companies. The leader knows that he must manage a team, provide feedback and hear their proposals. At this point, our recommendation is clear: don't hesitate to share initiatives or thoughts about the future of the organization, since it could be the way to shift gears they were looking for.
Experimentation and research. Many of these companies invest their resources in novelties, beta versions or techniques in developing stages, while providing their own expertise and broadening the technological environment. Your future training and professional specialization (you know that retraining has become crucial) lead you to those development stages.
Transparent communication. Any new information, update or improvement of the organization is conveyed to all the members of the team. Innovation and integral engagement are two terms that go hand in hand. That is also applied to communication among teams, thus creating an atmosphere of trust that makes working processes more efficient.
Benefits of innovation in your professional career
What kind of benefits does corporate innovation bring to your professional career? Take a look at the following infographics.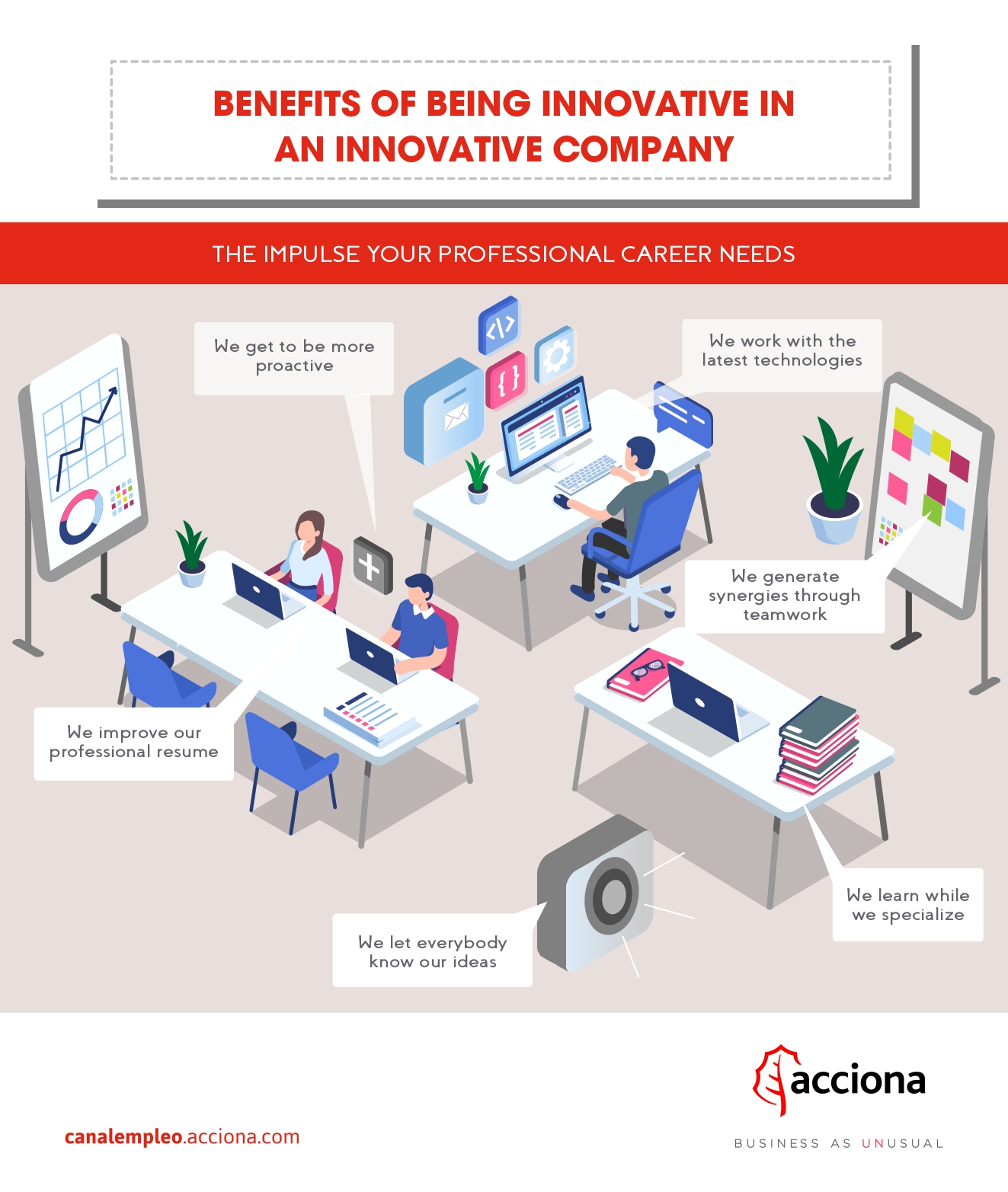 The final message of innovative companies
Betting on innovation within companies, as you see, is not about having the latest, the best and the most expensive. It's about using technology to seek a better, more sustainable future. It's about taking care of staffers, their initiatives and professional background. It's about improving business without compromising anything or anybody in the way.
Sources: Hubspot, El País, OIT, BBVA,  Thenewbarcelonapost
At ACCIONA our aim is for our workforce to be made up of the best professionals around. We want people who wish to contribute in designing a better planet. Discover our job-offers available worldwide.