Only 10 among the 193 countries in the world are led by women. Seven of those women, however, belong to the group of Heads of State who have managed better the COVID-19 pandemic that we're currently facing worldwide. 
Throughout history, men have been in charge of trying to fix the world while women devoted to house chores. Despite being relegated to a secondary role in society —especially regarding politics—, there have been women who managed to leave their female leadership mark on history. Cleopatra, Jean d'Arc or queen Victoria I of England are just some of the names proving that women also know about leadership when they gain power. 
That's what suffragette leader Emmeline Pankhurst proved when, in the early 20th century, she started to campaign in order to acquire the right to vote for women in the UK. "Deeds, not words", was her motto. 
A slogan made their own by seven female Heads of State leading some of the countries that have managed the COVID-19 pandemic better. They provided efficient solutions from the beginning, skipping those stages of denial, anger and acceptance of reality that other global leaders went through. 
"Deeds, not words"
Germany, Finland, New Zealand, Taiwan, Iceland, Denmark and Norway implemented effective, quick and smart measures with their citizens in mind. What is their common denominator? All these countries are currently led by women. In the last few days, several media such as CNN or Forbes magazine —which published a report based on data collected by the European Centre for Disease Control (ECDC)— claimed that the responses provided by these countries against the pandemic  were the "best".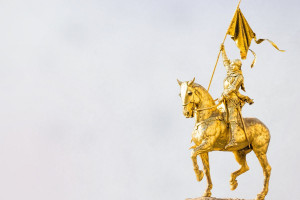 Numbers attest their management skills. In Germany, Angela Merkel activated all the country's health resources and mobilized every biotechnology company and medicine school. The result? In proportion, Germany has less infected and deceased than any other large country in the European Union. 
It's also worth mentioning the creativity of some measures oriented to curb contagion. Erna Solberg, Norway's prime minister, organized a press conference geared exclusively towards children. She answered their questions candidly, and told them that it's only normal to be scared and that precautions must be taken. Now, kids have become government's best advocates when promoting lockdown measures and cautiousness. 
Sanna María, Finland's prime minister and youngest Head of State in the world, recruited influencers as agents in order to raise awareness among the population. They were commissioned to spread massively the information provided by the government. As of today, the number of deceased is barely over 200. 
Women at the forefront of companies 
Female leadership has a lot to bring to the table regarding decision making. Beyond the political spectrum, the positive consequences of including women in executive positions are already unquestioned. There are strong glass ceilings still, but there's been a gradual increase in the percentage of women in large companies' management boards, reaching 20.6% according to the Credit Suisse Research Institute (CSRI). 
This integration yields to very interesting data and analysis. According to the IE business school, presence of women on management boards implies a greater degree of social commitment and a more participative leadership style. In addition, three out of four companies promoting the presence of women in management positions registered an increase in benefits of between 5% and 20%, according to a study by the International Labour Organization (ILO). Not to mention that companies stress that increased female presence helps attract and retain talented professionals, also improving creativity and innovation in the process.
It's not about a war of the sexes; it's about sharing points of view and different ways of doing things. If only half of the population makes decisions, we're leaving out everything the other half has to bring in. 
In crisis situations, female management 
Why are women managing the COVID-19 pandemic better, however? Psychologists Michelle K. Ryan and Alexander Halsan claim that women are capable of doing good politics better than men, especially during critical situations. 
In their study 'Reactions to the glass cliff: Gender differences in the explanations for the precariousness of women's leadership positions', these experts affirm that male leadership is primarily linked to management, while female leadership is more associated with crisis periods. In other words, when things turn ugly, skills associated to the female gender stereotype are most probably the ones necessary to stay afloat or, at least, mitigate the effects of the disaster.
The importance of discourse and negotiating skills 
Another common management factor these seven leaders share is that they have achieved a strong political unity both at regional and national levels. Besides, they've earned the complicity of their citizens —who are facing the current crisis with a high degree of trust in their respective rulers— as a whole.
Arjen Boin, political expert at the Leiden University (Netherlands) and author of The Politics of Crisis Management, claims that during crisis situations, apart from implementing appropriate measures, it's essential to develop an adequate narrative. In adverse conditions, the greatest support for a leader is a compelling tale assumed by the larger population, therefore allowing for difficult decision making under the approval of citizens. 
These leaders' speeches were coherent from the beginning: there was no excess of optimism or warlike rhetoric. All them realized the need to act resolutely against COVID-19, and so they conveyed it to their citizens. 
When Merkel realized the gravity of the crisis, she addressed the nation momentously: "From WW II, there has not been a challenge for our country that depends so much on our solidarity. 70% of the population might get infected. This is serious, let's take it seriously". According to ZDF, 90% of Germans consider that the government has done a good job during the pandemic. 
Perhaps it is too early to draw conclusions but, if there's something that female leadership has proved during this crisis is that, despite being a blatant minority, women have achieved the best results for their societies.  
Sources: Credit Suisse, ResearchGate, El País, BBC, La Vanguardia