According to the third climate survey (2020-2021) conducted by the European Investment Bank (EIB), environmental awareness is increasing worldwide: 67% of Americans, 70% of Europeans and 95% of Chinese respondents would be in favour of stricter government measures and willing to make lifestyle changes that would help curb climate change.
However, we still have an unfinished business: paper. Every year, 115 billion sheets of paper are used in offices around the world, and the average annual consumption per person is 48 kg.
Have you ever wondered what kind of impact all that paper has on the planet? With these facts below it will be easier to illustrate the problem:
The environmental effects of paper production include deforestation, very high energy consumption, air pollution from the emissions it generates and huge problems in the management of the waste it produces.
According to Greenpeace, 40% of the wood harvested for industrial use is used to make paper, and between 30% and 40% of municipal solid waste generated in Europe is paper and cardboard. This figure rises to 80% in the case of offices.
To make a single sheet of paper, we need 10 litres of water.
Until recently, there was no doubt that we needed to use paper on a daily basis. However, we now have alternatives at our disposal that can help us reduce paper consumption in the office, and by applying digital tools and new work habits, 67% of the documents that are printed are avoidable.
What is the paperless model?
Can you imagine a paperless office? No reports, diaries or documents. This is what the paperless model advocates, which more and more companies are signing up to, converting workplaces into digitised, sustainable and paper-free environments.
Paper is often the most vulnerable format for a document: it can be lost, there can be errors in transcription and even forgery.
The truth is that during these months in which we have been forced to adapt to remote work, we have learned that we can do without a fixed desk, but also without printers and hundreds of papers accumulated in a drawer.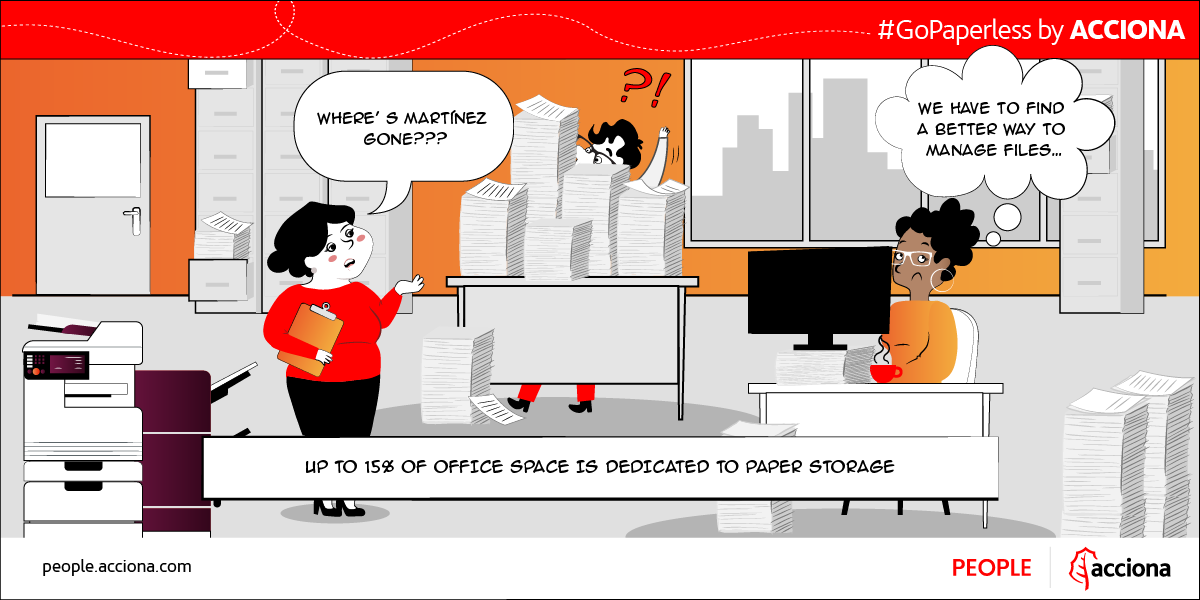 Teleworking has relegated the printed pdf, the email physically filed over the table (thus allowing such an oxymoron) or the hand-signed contract, in favour of online tools capable of satisfying the same needs as the printed page.
In fact, the new hot desking office spaces, with their flexible working model based on combining face-to-face and remote work, have shown that hoarding papers in a locked drawer is no longer necessary, efficient or secure. We can now have documents in the cloud and use multiple digital tools to securely manage our own "online drawer" from anywhere.
The digitisation of processes has taught us that reducing paper consumption and archiving is now easier than ever:
-Paperless offices use digital media for internal and external correspondence.
-Notes can be sent by e-mail or via a job portal.
-Businesses can also communicate via mobile devices and cloud-based software or internal platforms.
-Employees can also bring devices to meetings to take notes digitally.
-When signatures are required, many companies opt for fillable PDF files and electronic signatures.
Advantages of paper reduction
There are compelling reasons to migrate from paper to digital. It's estimated that the time it takes to find an archived piece of paper is around 18 minutes, and that more than 21% of daily productivity loss is due to problems related to finding documents. This is why companies that opt for paperless systems increase their agility and flexibility.
Moreover, in any business process that requires extensive use of paper, the weakest link is always the paper itself. Errors occur more often when information is in this format —papers get lost, there can be errors in transcription and even forgeries. The truth is that the paperless model has many advantages to consider:
* Minimise the environmental impact of offices: reducing paper consumption in processes is a strategy that aligns with Sustainable Development Goals.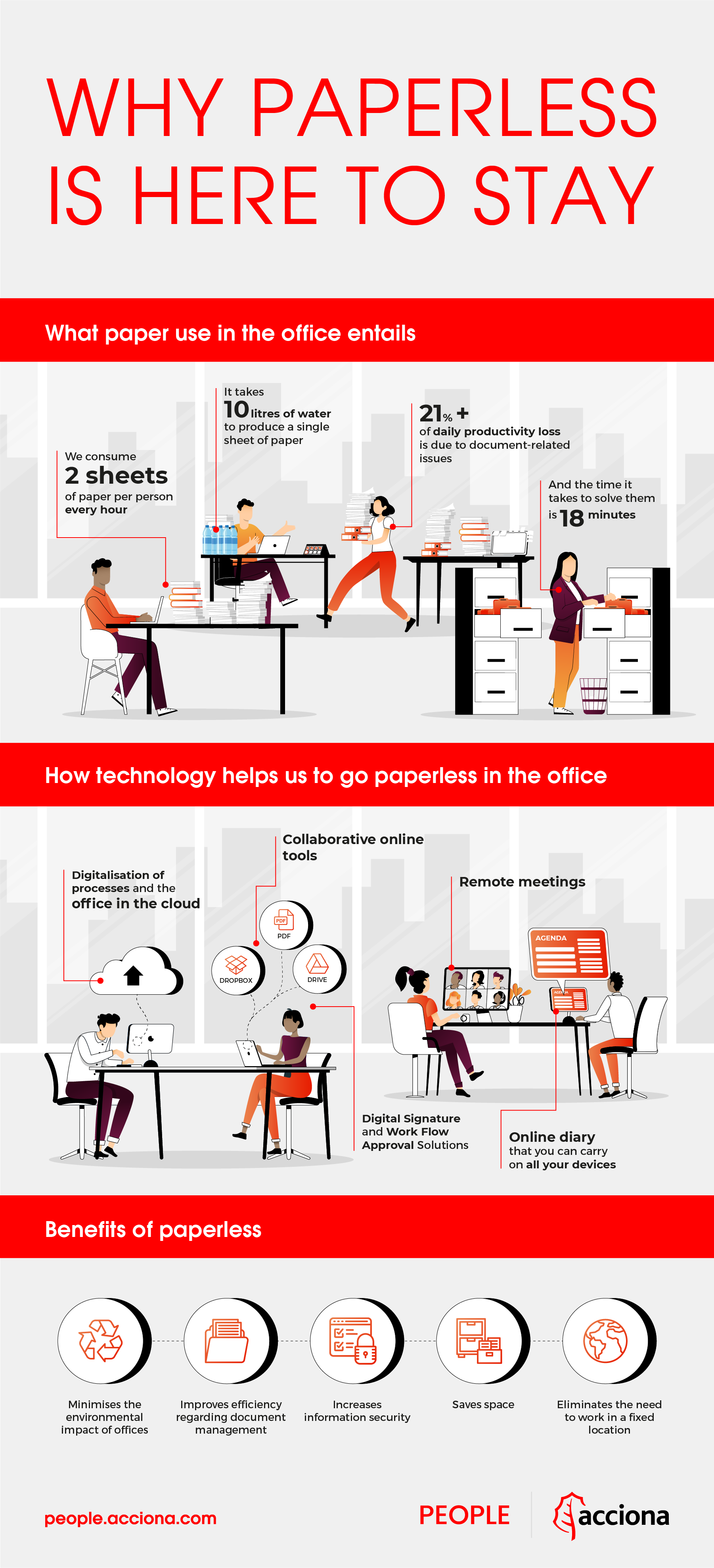 A multinational in Spain can print a total of 2 million sheets in a single year. This is equivalent to the consumption of 268 trees and 561,000 litres of water, as well as the emission of 32 tonnes of CO2. Companies with a paperless culture demonstrate their commitment and position themselves as eco-friendly companies.
* Improves efficiency in document management: through the digitisation of internal processes, we avoid the costs of printing, mailing, destruction of documents, among others. In addition, documents can be signed electronically from any device and any place. Undoubtedly, this is a clear advantage over handling everything on paper given the circumstances of teleworking.
* Improved information security: you can keep track of all documentation and know who has access to it and when.
* Space saving: the elimination of paper reduces the physical space dedicated to archiving documents and facilitates access to information for all employees.
Faster and more efficient processes, fostering collaborative work and communication between colleagues, increasing security and business sustainability… Paperless opens the door to the design of more sustainable and efficient workspaces, capable of responding to the new demands of corporate societies.