The hardest months of the pandemic and of confinement taught many companies a valuable lesson: the performance of their employees, despite the added difficulties of a family confinement and with uncertainty and worry as a social context, continued to be excellent even when working from home. At least this was the general trend, with some studies showing that productivity did not suffer.
This forced teleworking experience that coronavirus brought us opened a door to a new work system: the hybrid model. A model that many organizations are betting on now that their workforces are back in the office.
¿ What will I find in this article?
From teleworking to back to the office
It's time to go back to the office, to presenteeism, to meet our colleagues from the next desk or from other departments during the coffee break. Life is back in the workplace. However, it's not back to the way it always was. Things have changed for both the company and the employees.
After months of telecommuting, many organizations are now opting for a hybrid work model. This flexible work approach allows employees to carry out part of their work activities in a workplace other than the company's office. In this way, they can choose to work from home on certain days, making it easier, for example, to reconcile work and family life.
"The hybrid work model allows employees to carry out part of their work activities in a workplace other than the company's office".
Flexible working does not mean that 100% of the working day has to take place outside the office. In fact, a model that combines telecommuting and on-site work is also a favourite among employees.
Recent Microsoft research among 30,000 employees worldwide revealed that 70 percent of workers want flexible remote work options to continue and 66 percent of companies are considering redesigning physical spaces to better accommodate hybrid work.
The staffers that work under this system divide the days they go to the office and the days they work from home. A rotational work model that is also driving the transformation of offices.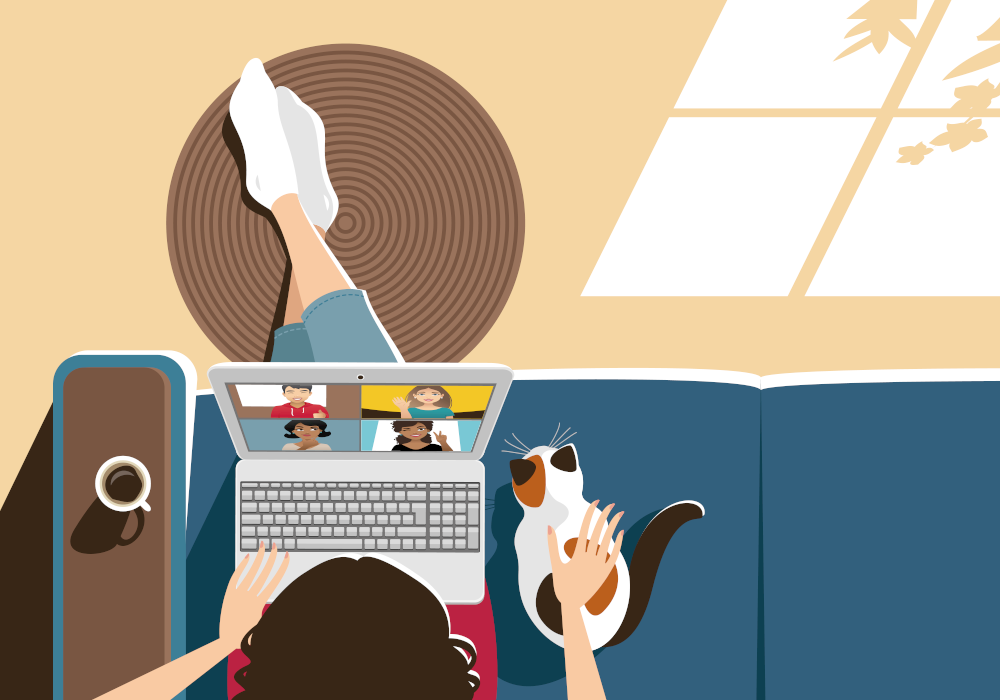 "70% of workers want flexible remote work options to continue" 
Many companies have thought that it's not necessary for each employee to have their own desk and have adopted hot desking. If you want learn more about this model, read this article.
Benefits of the hybrid work model: when it's time to telecommute
Teleworking at home or from anywhere has advantages for the employee that benefit both their personal and professional life:
Increased productivity: sometimes, there are workdays full of tasks that require 200% of our concentration. Working from home, where we can prepare a space free of distractions where we can be, can be the solution to carry out such tasks.
Work life balance: being able to combine work and personal life is one of the great challenges of the 21st century. And teleworking is one of the tools that makes it easier to make both compatible. Imagine, for example, that your child has caught the flu and will not go to school that day. You can work from home and take care of him at the same time. That way, if he needs anything, you'll be close by. Something that benefits him, but also you. By being with your child at home, you'll be more focused on your work knowing that he's well instead of being at the office worrying about his health. However, beyond family life, it also allows us to better reconcile our personal interests with our professional life. Do you want to work from the café next to your gym to take advantage of the lunch break to do some exercise? This is another of the perks of working remotely.
Time optimization: Do you have to go to the bank to do some kind of transaction? Are they coming to your house to fix an appliance? Something that happens in big cities or when we work in the next town is that the office is usually quite far away. Instead of spending hours going to and from the office, you can work from home and take care of everything from there.
Cost savings: the less we have to commute to the office and back, the less we have to invest in transport or petrol. The same goes for meals or coffee. If we work from home, those are expenses we end up saving.
The time of the pandemic has also taught us that there are irreplaceable things about working in the office.
Benefits of the hybrid work model: when it's time to go to the office
However, all that glitters is not gold. Telecommuting can affect the relationship with colleagues and the ability to work in a team. In addition, it also deprives employees of situations that can benefit their professional and even personal development. The time of the pandemic has also taught us that there are irreplaceable things about working in the office:
It speeds up communication: being able to ask the colleague in front of you about an issue you have pending or being able to ask your boss some questions while having a coffee makes certain issues are resolved sooner and more easily than dealing with them through a video call or messages.
Written communication requires more work than verbal and spontaneous communication. In addition, with face-to-face communication we often avoid misunderstandings, since the expressiveness that online chats take away from us comes into play. And we even avoid embarrassing situations like what happened to this American lawyer who appeared before a judge with a cat filter.
It facilitates learning: with closer collaboration, synergies are created between employees, who can help each other more easily. On the other hand, it also makes it possible to meet colleagues from other departments in shared office spaces and discover other areas of the company. A way of opening doors to further knowledge that can lead to new ideas.
It benefits emotional health: excessive isolation can cause anxiety or, on the contrary, apathy.
It fosters corporate culture: daily contact makes employees feel that they are part of a team. In addition, it also facilitates the integration of new members. Inclusion in the physical workspace facilitates the integration of new employees: without chatting informally or having a coffee, it is difficult for the employee to learn the dynamics and roles of the team.
As you can see, there are arguments in favour of both remote work and working in the office. The pandemic has made us reflect on a new office model in which the hybrid format is proving that leveraging the best of face-to-face and the best of telecommuting can be the way forward.
Sources: