We have already discussed in this space on occasion about gender and race prejudice and discrimination, but in this article we intend to address one of the biggest and most problematic sources of prejudice and discrimination in the workplace: age.
What are you going to read about in this article?
Age discrimination at work is a current problem
In Europe, only 58% of people aged 55-65 are in work. And according to recent data, 47% of Europeans perceive age as a competitive disadvantage compared to other candidates with a similar profile.
In the 2018 Deloitte Global Human Capital Trends report, 20% of respondents perceived older workers as a competitive disadvantage for their organizations, and 49% reported that their organizations did nothing to help older workers develop new careers.
 "47% of Europeans perceive age as a competitive disadvantage compared to other candidates".
Ageism is an inexhaustible source of discrimination that, unlike other prejudices, will affect us all sooner or later if we don't remedy it. According to the World Health Organization (WHO), which published the 2021 World report on ageism, it occurs when age is used to categorize and divide people, causing harm, disadvantage and injustice.
It can take many forms, including prejudice, discrimination and institutional policies and practices that perpetuate stereotypical beliefs. Ageism does not only occur in the labour market, as shown by the outbreak of the pandemic. We can also find examples of these prejudices when it comes to assessing a person's physical or health status simply because of their age.
"Ageism is an inexhaustible source of discrimination that, unlike other prejudices, will affect us all sooner or later if we do not remedy it".
What age biases exist in the workplace?  
At the demographic level there are two main trends. On the one hand, a first positive trend (1) we live longer and longer (increased life expectancy), and secondly (2), we have fewer and fewer children (declining fertility rate), causing an aging population. If today the population over 65 years of age is 727 million, it is estimated that in 2050 it will double (1.5 billion people), according to UN projections (see graph).
This new reality has many implications, which is why it's essential to transform the future of ageing, as the European Commission invites us to do. The labour market is a vital field to foster this transformation.
Currently, a worker over 55 is linked to many negative stereotypes that science challenges. These stereotypes can be summarized in four:
(1) are more expensive employees than the others
(2) are less flexible employees and more resistant to change
(3) are generally less productive employees
(4) are employees who are more likely to suffer from health problems
In short, the market perceives employees over 55 as stagnant and expensive. The problem with stereotypes is that while they may not be true, their implications are. And in general, studies show that managers make little effort to support the development of older employees.
Age as a competitive advantage in the workplace
In an interesting review of studies and publications on age and discrimination in the workplace, Professor Geoffrey Wood and his colleagues found no clear evidence between age and productivity, challenging the stereotypes most of us have in our heads.
While it is true that there's a deterioration in some functional areas such as vision or hearing, age provides valuable skills that are acquired over time such as anticipation, wisdom or efficiency in managing adverse situations.
In fact, studies have found that older employees are the most productive. Among other reasons, this high productivity is explained, according to experts, by commitment and loyalty, which reduce or eliminate the high turnover costs caused by younger employees, and by being more motivated to continue exceeding employer expectations than younger generations.
At the same time, the experts point out that there is no evidence that older people are less receptive to new training, where it has been found that older employees are the ones who retain new training information better.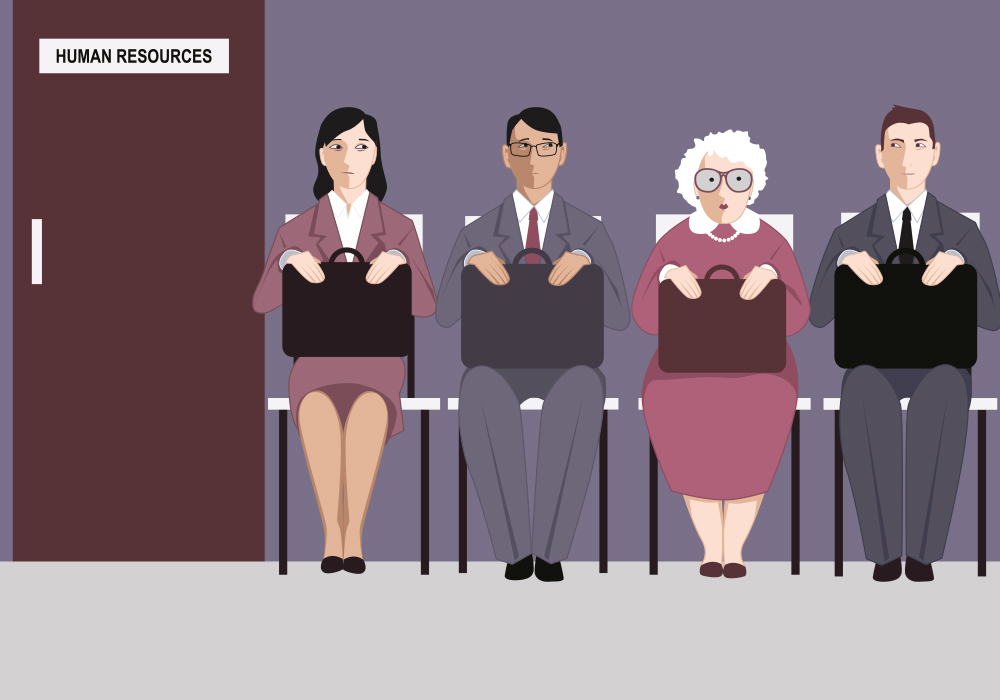 Ending Age Discrimination in the Workplace
Therefore, it's necessary to carry out an exercise in order to eliminate stereotypes that only lead to stigmatization and a loss of very valuable talent for companies. The AGE platform suggests three main lines of action:
Education with the aim of raising awareness of age discrimination
Promote policies to eliminate age discrimination, as they don't exist at national level (with some exceptions such as the United States, with the Age Discrimination Act since 1967). In Europe, there a directive in 2000 and a proposal in 2008, but little formal legislation in this area.
A United Nations Convention on age discrimination, such as already exists for the Rights of the Child, Corruption, or on the Law of the Sea.
At the organisational level, there are also interesting proposals to put an end to ageism or age discrimination.
To genuinely value heterogeneity. This first point is crucial. Organizations must be aware of the wealth generated by five generations working at the same time on the same project, facilitating a cognitive diversity that can only be achieved through heterogeneity. Few things are obtained by working alone, or with people who are identical to us.
Re-imagine the week, offering flexibility. Does it really make sense to keep thinking about the 9 to 6? Should the vast majority of us stick to this industrial timetable, which leads to queues and wasted time on the tarmac? It is important, and positive for social and ecological sustainability, to offer non-industrial working hours, where each person has the freedom to choose a flexible starting and finishing time. In some countries even, at a certain age, it's sometimes possible to negotiate the number of hours you want to work. It can be an element of attraction in order not to lose the magnificent talent offered by older people.
Recruit "older people". Not only it's necessary not to replace or fail to replace older people with younger, cheaper options, but to purposefully hire older employees in order to continue to foster cognitive diversity and allow the richness that only heterogeneity can bring to emerge. In the United States, companies such as Boeing or Walgreens invite older people back with innovative programs known as "returnships".
Teach "recruiters" not to discriminate on the basis of age. This is a good challenge, as it is difficult for everyone to understand their own biases, but for recruiters it's essential to do an exercise in order to understand their own towards potential new, older employees. This is the only way to offer them a genuine and sincere entry.
Bibliography:
Wood, G., Wilkinson, A., & Harcourt, M. (2008). Age discrimination and working life: Perspectives and contestations – A review of the contemporary literature. International Journal of Management Reviews, 10(4), 425–442. https://doi.org/10.1111/j.1468-2370.2008.00236.x