Organizing ideas or developing an action plan can sometimes turn into a really complex matter: defining the main concept to work around, categorizing subtopics, structuring content coherently… Although there are plenty of methods to mentally organise information, it's been a while since mind maps revealed themselves as a tremendous solution to this problem. In addition, they're an efficient tool for students and professionals alike due to the cross-disciplinary nature of its functionality.
What is a mind map?
Tony Buzan was the first to introduce the mind map concept in his work The Mind Map Book. He defined it as a "powerful graphic technique that allows us to represent information in a simple, spontaneous and creative way so that it is easily assimilated and remembered by the brain. It's an extremely valuable thought organization tool".  Generally speaking, mind maps are a graphic technique based on semantic representation diagrams which are used to express concepts and definitions around a core idea or key word.
When we receive information, the process in our brain isn't lineal. Instead, we process that information by spreading it in various directions. This —which is the natural, mechanical way our mind works— is better known as radiant thinking or associative thinking, and it's considered to be the emerging point of mind mapping and its implementation in the workplace.
As Buzan said: "Human brain doesn't think in terms of toolbars or menu displays; it thinks organically like every other natural form, like the circulatory and nervous systems of the human body, or like the branches of a tree and the nerves of one of its leaves; and for it to work properly, it needs the help of a tool that reflects that same natural organic flux. Mind maps are that tool".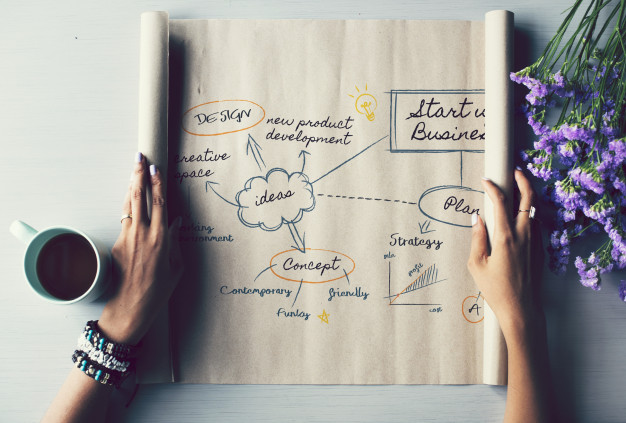 What are the advantages of mind mapping?
The integration of mind maps into a company's daily routine has a truly transforming effect, since it manages to replace linear thinking —what we've been taught for our entire lives, unfortunately— with radiant or multidimensional thinking, thus ensuring best use of staffers' knowledge, professional skills, and creative, analytic and problem-solving potential.
One of the differential advantages of mind maps is their ability to provide several perspectives simultaneously — global (holistic/ of totality), relational and detailed— within the same layout at just a glance.
In the business world, mind mapping is utilized to analyze, create, debate, learn, organize, plan, present, take notes, comprehend… But it's not limited to that. The use of mind maps also provides a proven increase in productivity, effectiveness and efficacy in the following areas:
Time management.
Brainstorming sessions.
Project management.
Presentations.
How to develop a proper mind map?
The creation process of mind maps is simple. It can be summarized in four steps:
Write the idea on a blank sheet. Including a related image with the text in order to memorize it easier is very effective.
Write down ideas around the main page. The brainstorming stage is crucial to mind mapping; it's the time to let creative thinking loose.
Link every element with arrows in order to arrange what is represented on paper. Determining a final hierarchization of ideas will allow us to memorize everything easier.
It's advisable to use more than three different colours in order to have greater impact on the brain's right hemisphere, thus retaining and understanding information effectively.
Trial and error.
In short, mind maps have amply proven to be a groundbreaking and infallible tool to maximize the productivity and creativity of each and every department and employee within a company.
Sources: Concepto.de, Columna Cero, Cinco Días, Educación 3.0, Tu Gimnasia Cerebral y Universia
At ACCIONA our aim is for our workforce to be made up of the best professionals around. We want people who wish to contribute in designing a better planet. 
Discover our job-offers
 available worldwide.